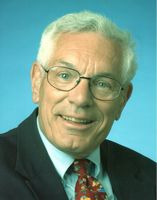 Dr. Robert M. George, age 83, died at the Presbyterian Home on Wednesday, March 27, 2013 surrounded by his loving family.

Dr. George was born in Rochelle, Illinois, the son of Matthew and Marion (McGinnis) George and grew up in South Bend, Indiana. He was a graduate of the University of Michigan and Indiana School of Medicine. He completed his Pediatric Residency at Ohio State University and was a Diplomate of the American Academy of Pediatrics. Dr. George served as a Captain in the US Air Force, stationed at Griffiss AFB. This experience was his introduction to the Utica area and led to a subsequent partnership with Dr. John Woods.

In 1955, he was married to Marian (Susie) Messel, a loving union of 47 years that ended with her death in 2002. In 2005, he married Pauline Tracy, who survives him. Dr. George was a well-known area Pediatrician. In 1968, he joined the Slocum Dickson Medical Group from which he retired in 1996. His past professional honors include President of the Oneida County Medical Society, Chairman of the Board of Trustees of the New York State Medical Society, member of the Board of NY State Professional Medical Conduct, New York Delegate to the American Medical Association and President of St. Luke's Memorial Hospital Medical Staff. He was also privileged to be a member of the Utica Medical Club, the oldest medical club in the country, founded in 1891 and the Central New York Pediatric Club. Dr. George was one of the original board members of the Children's Zoo and was an active volunteer with the Boy Scouts of America for many years.
He had many hobbies over the years, but woodworking was his greatest passion, passing along many handmade treasures to his family.He was an active sportsman and enjoyed hunting for grouse with a special group of friends from Ohio every fall for over 40 years. He also enjoyed fishing, kayaking, skiing and spending time at his camp on Kayuta Lake. He passed on his love of nature to his children and grandchildren who will remember the fun walks, campfires, boating and stargazing. During his retirement years, he volunteered his time at Our Lady of Lourdes, where he served on the Liturgy Committee, Funeral Ministry and as a Eucharistic Minister.

He was predeceased by an infant daughter, Anne Marie and one sister, Mary Alice Lencioni.

Dr. George leaves seven children who will cherish him always. Michael (Lori) George, Deborah (Larry) Hilton, Karen (Bruce) Livingston, Patricia George, Mary (Jon) Bobinski, Meg (Larry) Deck and Colleen (Kirby) Beard. He was blessed to spend time over the years with his 16 grandchildren and leaves them with wonderful memories that they will treasure for a lifetime. Kimberly George Snow, Jennifer and Matthew George, Kristi Hilton Freeman, Paul and Daniel Hilton, Jake and Zach Livingston, Justyn Bobinski, Eric, Katherine, L.J., Emily and Elizabeth Deck and Sarah and Caroline Beard.

He is also survived by two brothers-in-law, Dario Lencioni, Wheaton, IL and Robert Messel of Mt. Pleasant, IA and their families. In addition, he will be missed by four stepchildren, Lynn (Greg) Tracy Nerland, Michael (Jill), Stephen (Christa) and John (Maureen)Tracy and their children, Zachary and Matthew Nerland, Molly, Annie, Tayen and Hollis Tracy.

In lieu of flowers, please consider a remembrance in Dr. George's name to the Children's Miracle Network or the Alzheimer's Association. Envelopes will be available at the funeral home.

The family would like to thank the staff of the Cedar Unit of the Presbyterian Home for their compassionate care.



Sorry to take so long , but today I had the urge to check out Bob''s name and saw the glorious obituary, so offering my deepest sympathy. The Georges and Rubins were stationed at Griffiss AFB for several years . Michael was a tiny baby and soon there were more sisters and we were there for most all of their arrivals. We were stuck at the AFB and the Georges started a civilian practice nearby in Utica. . When we adopted our baby boy in 1970 we rushed him over for Bob to check him out . We spent many hours together visiting and eating--Susie was a great cook-- and Bob and my husband also named Bob shared a love of woodworking. I was so glad to hear of Pauline joining such a terrific family and know she brightened his life those few more years they had together. Sending much love to all the children who I remember as small children and extended family from Glenna
Posted by: glenna rubin | Thursday, November 28, 2013
---
I was one of Dr. George''s patients when I was young and I first met him at the Air Force Base. He was so handsome and as a young child I had a huge crush on him. I loved going to the doctors because of his wonderful personality and good looks. I am so sorry for your loss. He was a wonderful man.
Posted by: Joanne Gurick | Thursday, May 30, 2013
---
Jenifer and I pass our most sincere condolences for Dr. George''s family. Dr. George was my pediatrician and I have fond memories of his care. It was so nice to hear when Bob and Pauline married in 2005. Both families are close to the Soykans and their union was special in many ways. Our thoughts and prayers are with you.
Posted by: Erik and Jenifer Soykan | Wednesday, April 03, 2013
---
My heart is broken to hear that my additional father figure has passed on. Growing up with the George family was some of the best memories that I have and I will cherish them forever! Dr. George was a father to look up to and he taught me a lot of things throughout the years. I enjoyed family vacations; especially our trip to Disney in Florida and our hikes up at the farm in Hartwick or at camp at Kayuta Lake. He amazed me at how he could work so hard and then still have time for his family and all his hobbies; especially the great clocks that he made. He always made me feel welcome in his home and had a smile on his face all the time. It was even greater to have him be my Pediatricain for my daughters. My oldest daughter Alysha wrote a paper in high school on the one person that she admired the most and it was about Dr. Robert George. She went on to college to take Pre-Medicine so that she can become a pediatrician herself. So thank you Dr. George for all you did for me and my family. To all the George''s; I may not see you often, but I love each and everyone of you! You are all in my heart and I am sorry for your loss! God Bless You All!
Posted by: Doreen Ann Gigliotti-Balls | Tuesday, April 02, 2013
---
I was deeply saddened to hear of or Dad''s passing. In hearing the news it took me back many years to a time when I spent countless hours hanging around the George household. In doing so I grew to appreciate your dad''s sense of humor, his kind and patient demeanor, his many hobbies, but more than anything else, how proud he was of all his children. His love for his family was always evident a trait that I continue to admire. I am honored to have had the opportunity of knowing him. My heartfelt condolences to the entire family.
Posted by: Corey Conley | Tuesday, April 02, 2013
---
Pauline and family - I had the pleasure of knowing Dr. George during my years in Audiology at Slocum Dickson. He was a loving,sincere and gentle man. Enjoy your fond memories of him. It was truly a special person.
Posted by: Janet Snyder | Monday, April 01, 2013
---
Bob and I shared many patients together over the years. He was a fine physician, good friend and trusted colleague. My sincere sympathry to the entire George family
Posted by: Anthony Dardano MD | Monday, April 01, 2013
---
Almost 50 years ago, the pediatric floor nurses at St. Elizabeth''s Hospital were so excited. The reason was that the pediatrician for my daughter was the handsome, charismatic Dr. George. How fortunate I was to have Dr. George and Woods. I was the first time mother that called constantly...and neither ever lost their ''cool''. My daughter still recalls complaining that as a teenager, she was outgrowing Dr. George. However, she continued on until age 16...we gave her no choice. I am saddened by the loss of this man. My sympathy to his entire family.
Posted by: Marie S. Clements | Sunday, March 31, 2013
---
Our sincere condolences to Dr. George''s family. He will be greatly missed by so many. He was an amazing physician and neighbor. We remember the many walks Doctor would take with his dog and the friendly hello he had for all.
Posted by: Gehringer/Roberts Families | Sunday, March 31, 2013
---
What a terrific doctor our area was so very privileged to have! He was always very kind, passionate & understanding. Thank you for being a part of our childrens'' & our lives. Our heartfelt sorrow is felt with your entire family.
Posted by: Walt & Camille K. | Sunday, March 31, 2013
---
To Dr. Georges''s family, I am so sorry to hear of Dr. Georges passing. He will be remembered by my family as the BEST pediatric doctor in the area. He was kind, understanding and had the patience of a saint when dealing with this new mom. May God help you all through this difficult time. May he rest in peace.
Posted by: LouAnn(Paternoster) Spatola | Saturday, March 30, 2013
---
He was a great guy and his never ending smile will be missed. We were lucky to have known him. While we are saddened by his passing, his memory always brings a smile. Sorry we can''t be there to give you hugs. Love to you all, Joe and Evelyn
Posted by: Joe and Evelyn Tierno | Saturday, March 30, 2013
---
Karen, So sorry for your loss! Thinking of you/Anything you need let us know. The Houghtalings
Posted by: Pat Houghtaling | Friday, March 29, 2013
---
My sincere condolences to Bob''s large and dear family members. Donna Marie and I knew him well. He was sincere, concerened, up-lifting... a close and devoted friend. His professional accomplishments were outstanding. He now leaves us, carried on Eagle''s Wings. He will ever be in our hearts and in our prayers. God Bless you all...and God Bless Bob.
Posted by: David B.L. Meza,III M.D. | Thursday, March 28, 2013
Post a Message of Sympathy
DO NOT SUBMIT information that you do not wish made public on this site. We review all submissions and reserve the right to reject any messages.